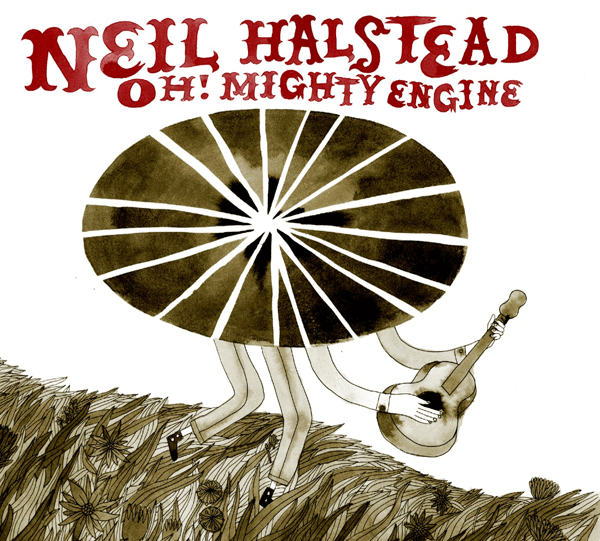 I'm really ashamed to even mention this, but I finally got Neil Halstead's second solo album, Oh! Mighty Engine. I know, some fan you are Archa, you damn charlatan. Why the long wait? I can't give you a real good answer to that. Yes, I could of downloaded it from Itunes or Amazon, but when it comes to my favorite bands I will always by the CD. I just like having the actual CD in my hands to look at. Another reason is that on Itunes the album isn't DRM free and I really hate that. I was actually surprised when the album was released eons ago that it wasn't on Itunes Plus. I just don't know why new albums aren't automatically put on Itunes Plus, but that's a whole other story.
I'm definitely enjoying the album. It's a good progression from Sleeping On Roads. The album is overall soft and quiet like. You just can't help to think that you should be lying under a blue sky with puffy clouds on a big field somewhere and to add to that, drinking some lemonade.  His comparison with Nick Drake from many of the professional music critics are accurate. Neil's a great singer/songwriter and I'm glad that I was able to meet him when he was touring with Mojave 3. He's a nice guy and was very approachable.
Some songs that I first took noticed was Paint A Face, Oh! Mighty Engine, Elevenses, and Queen Bee. There are of course  other noticeable songs on the album worth looking at. So if you're into soft, warm, quiet, folk like music, this album has your name on it.
Oh, I also finally got The Cure's 4:13 Dream as well. More on that later…