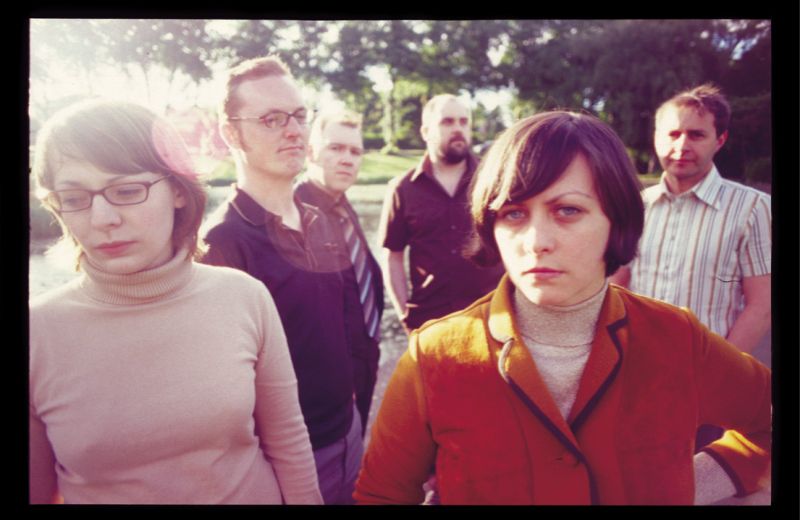 Tuesday night was a great kick off for the summer concert series with Camera Obscura. They were at the Glass House in Pomona and I was glad that it was only thirty minutes away.  Cara, my friend Rob and I got there around 7:30pm, which is pretty damn early to think of it.  We didn't realize until later that they had two bands opening for them, actually a DJ and a band called Agent Ribbons.  Camera Obscura wasn't going to play until 9:40, so we took our time and Rob bought tickets for the Band of Horses concert at the Glass House box office.  They're actually playing at the newly restored Fox Theater in downtown Pomona in late August. I still got to get the tickets.
Hurry up payday.
After Rob and his girlfriend Suzie got a bite to eat (Suzie showed up later), we decided to finally show our faces at 9:00. It was an interesting scene to say the least. I overheard the singer say to the audience that they will cut their show short due to her voice, but that wasn't the interesting point. It was a man with a bird mask hitting a tambourine against his left handed boxing glove which caught my attention. I felt like I was in a David Lynch movie. The stage was very Twin Peaks with the red drapes in the  background, so I guess it makes sense. I wish I had a picture to show you, but this might do.
Camera Obscura came out as promised at 9:40 and I believe they opened up with "My Maudlin Career". I have to say they sounded really good live and Tracyanne's voice just resonates so well. When she sings, it just pierces through the air. They played a couple of songs from their new album like, "James", "Swans", and of course the danceable "French Navy".  They went back in the archives and played "Eighties Fan" which is off of Biggest Bluest Hi-Fi. They played many of their other songs especially off of Let's Get Out of this Country, probably their most popular album. Of course they played "If Looks Could Kill" and their encore song of choice,  my beloved "Razzle Dazzle Rose".  They did mess up in the beginning and had to start over, but I'm totally fine with that. They're human after all and it was funny to hear Tracyanne joked that they played this song for two weeks and they still screwed the song up.  After they found their sync, the song was amazing live  just as I imagined it would be.  It was at the end of the song where it was a glorious chaos of instruments all playing at the same time with the signature horn keeping it all together.
If I had the time and money, I would definitely see them again in LA. They're a great live band and I wished they would of played for another hour. I believed their set was roughly around a hour and fifteen minutes. If they would of gone more, I'm sure nobody would of complained.
I would say the only weird thing about the night, besides bird man, was the vibe of the crowd. Some people were getting into the music and I understand not all of their songs are danceable or upbeat, but it just felt like the crowd was not all there. It was like a group of zombies staring at the stage. Maybe I'm reading too much into this, but you would think people would be more excited about a band who rarely comes out to the states to be more into it.  I'm pretty sure bird man was excited.
Here's some videos for your entertainment.
Okay here's a gem. This is their cover of "Some Guys Have All the Luck" by Rod Stewart. Golden.
"French Navy"
"Let's Get Out of This Country" aka "Let's Get Out Riverside" for my version.