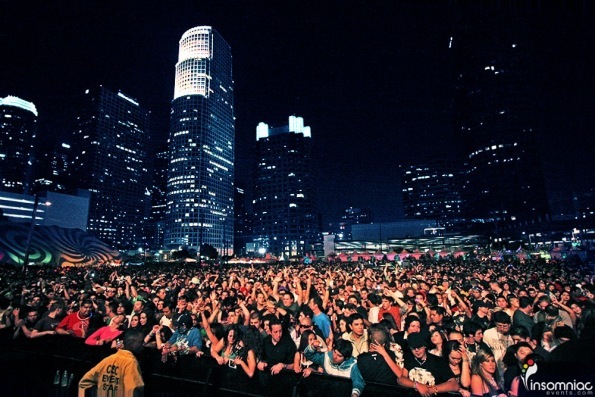 Well, another Nocturnal Festival has gone and so is my hearing. I always remind myself to bring earplugs and I always forget. I guess I'm fulfilling my characteristics of being old. Add memory loss and deafness to my list please. This year's event, at least to my friend and I, seemed different from last year. I think there wasn't an age limit this year, because it seemed like a bunch of junior high kids roaming around with glow sticks and disturbing clothing that you wonder, does your parents know you wear clothes like that? We definitely felt a bit out of place. We probably looked liked we worked there instead. When the event was held in LA in 07, the crowd was much more older. I'm thinking at least 18 on up and it appeared the crowd was much more experienced in this type of event. You got a good mix of electronica enthusiast that go for the music and blended in was the the whole rave scene culture as well. Nocturnal 08 was predominantly rave scene culture and the majority under 16. I don't know if it was the location of the event or what, but there was a different vibe this year.
Now on to the bands. Hands down the best set was Uberzone. They brought the house down and they know how to work the crowd. Funky, groovy, hard hitting mad beats is the only way I can describe their live set. The highlight of the show was when they mixed in Eddie Grant's Electric Avenue. Growing up to that song surely brought me back to a time of innocence. I hope Uberzone comes back again, because it was well worth it to see them live. I would check out the song Fubar if you want to hear what I'm talking about.
Above and Beyond was my next favorite set from Saturday night. If you haven't heard of this band yet, then I highly suggest you should. They're a trance group such the likes of Paul Van Dyk and Oakenfold. Their music is very uplifting and they have great vocalist tracks to boast as well like Can't Sleep and Alone Tonight. Other songs worth mentioning is Indonesia and Air For Life. You might as well just buy the whole damn Tri-State album.
Next on the list was Richie Hawtin's set. I believed if I was more into House, I would of probably enjoyed it more. This is not to say I didn't like it or anything, but it's not as moving to me. Richie Hawtin aka Plastikman is still a great DJ and it was a pleasure to finally see him live. He was part of the Detroit's Techno scene in the 90's and it's very evident in his live set. System 7's Alphawave acid house mix by Plastikman is still one of my favs.
This year Nocturnal Festival was pretty cool, even though my friend and I felt like the "Elders of Electronica", we still had a good time and that's all that matters. I'm curious where the venue is going to be next year and if they're going back to LA or not. Oh, eating at Denny's at 3 am is still good times.