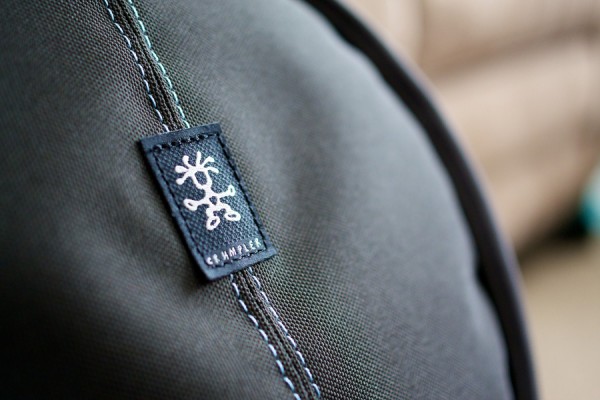 I got a new camera bag!
I have to say that I'm really happy with the purchase of this bag starting with the great customer service from Crumpler. When I was going to actually buy the bag, I noticed on their website there was no mention of their inventory and every online store I went to was out of stock. I sent an email late at night to Crumpler, which their only store is in New York City, and got a quick email response from a dedicated employee named Morgan the next day. He replied they were out for a few months and they finally got them back in stock.

Being the worrisome person that I am, I started to wonder if I should go with the medium or the small size bag and I also noticed on the site they didn't have  any pictures of people actually wearing this bag. My goal was not to look like the hunch back of Notre Dame, so I looked around many different photography forums and nothing substantial came up. I emailed Morgan back if he had any pictures of a person actually wearing the bag, but I told him it was okay if there wasn't any. He comes back with his measurements and three different angled images of himself wearing the bag.  Now that's great service!
After a few more email exchanges with my personal liaison to Crumpler, I finally narrowed it down to the medium size.  Morgan even helped me try to visually configure the bag with my gear to see if it would fit the small, but in the end I went with the safer choice and I'm glad I did.
So after all the great service, Morgan replied back wondering if ArchaSung.com was my site. He mentioned to me that it was only natural since I'm a fan of music and Crumpler to want me to hear some music.  You see, Morgan is actually in a band called Robbers on High Street. He also forwarded me their streaming album that will later be release this year titled, Hey There Golden Hair.  They have a very poppy 60's retro sound to them with a catchy horn section. If you want something new to listen to and maybe a soundtrack for the summer, this could very well be it.
I guess I should get back to the bag…
So far the backpack is working out well and I love the fact you can take out the entire inner compartment and use the bag as a regular backpack. The 15″ laptop carrier can also be taken out as well. I did however have to reconfigure the bag so I can actually fit the 40D with the battery grip on top of the bag instead of the default bottom.
We'll definitely see how this bag holds up on vacation, but I have a good feeling it will.
Here are some pics