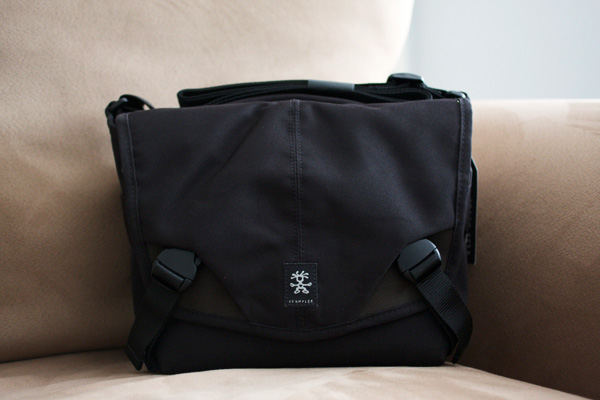 Got another bag!
Okay you're probably thinking I'm sick and have issues, which is sort of true, but let me explain myself first.
I originally got the the Crumpler Karachi Outpost so I can carry all my gear with me when I travel, but I decided at the last minute that I really didn't want to wear a backpack all the time when I visit Boston and Maine (pictures coming soon) for vacation.
I did some more research and looked into many companies, but I always end up going back to Crumpler. I didn't want something too expensive and most importantly something just to carry my Canon 40D with lens attached, one more lens, spare battery, extra memory cards, and cleaning tools. I wanted to keep the size to a minimum as well so I can move around  freely through the city and of course at a baseball game.
I was originally going for the 4 Million Dollar Home, but read on other forums and blogs that a 40D would be too tight. I finally decided on the 5 MDH and it was the wisest decisions I ever made regarding gear.
After I received the bag and took pictures of course, I then brought out the gear that I would be using in the bag. A Canon 40D minus the battery grip (it will definitely not fit), a Tamron 17-50 2.8 attached, and a Sigma 10-20 f4-5.6 EX DC HSM and the other smaller items. I adjusted the inserts and everything fit nicely! I was worried though that the 5MDH didn't come with a shoulder pad for the strap, but I will tell that part of the story later.
The materials they used on the bag seems very sturdy and rugged, and I read on the site they use water resistant  materials on the outside so your gear stays dry on the inside. This will be tested by the way, and not by choice. Crumpler thought about the details when making this bag. They considered the possibility that sometimes you need to be discrete and have these handy panels that go over the velcro in the front to keep your bag silent when you open it up (third picture in the gallery). Other parts of the bag that I found really helpful was a zipper mesh pocket that is under the flap and another separate front velcro pocket to keep your smaller items like batteries or memory cards. Also, they have these side pockets on each side that can store items like a gronola bar or a cellphone. I'm telling you this bag can hold some serious shit!
So how did the bag do during the actual trip? It was a champ and I had it on me all the time. In a previous part of this long winded review I mentioned the shoulder strap and my concern with weight. It didn't bother me even with all my mentioned gear, now add a small umbrella that I fit inside across the top, or a rocket blower, or even a small water bottle. This bag distributes the weight well. Crumpler made the strap wide enough so it doesn't dig in your shoulders and I believe there's a sweet spot to wearing this bag. When the bag is worn more behind your back like in the product photos on their site, you really don't feel the weight. I wore this bag all day around Boston, during rush hour on the subways, high traffic tourist areas and no complaints. The thing I complained about was the weather and my flat feet.
Speaking of weather, the first three days in Boston had some pretty good showers. When we were at Fenway the sky just opened up. Luckily I had a poncho to cover my bag. but it did get rained upon bad in the beginning. I was so worried about my camera, but every time I checked everything under the flap was dry. I was relieved to say the least. I now know that if it starts to rain and I see the water start to bead up on the bag, I have some reassurance.
So you must be thinking that there has to be something that you didn't like about the bag or something that you would like to see improved upon. I thought about this and maybe would of like a dedicated water bottle pouch or something on the side, but that's really about it.  Everything else I really have no complaints. The bag is the perfect size, not too big and not too small. It carries enough of the essentials and then some. The bag is reliable and definitely durable.  That's everything I would really want in a camera bag.