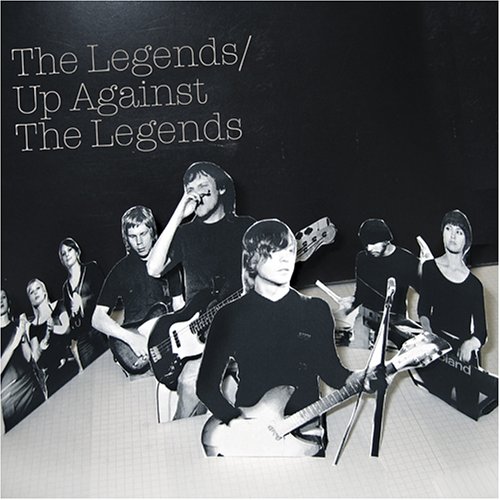 Okay, it's been awhile and I really don't have a good excuse, unless you think being lazy, watching The Stanley Cup Playoffs, working, and trying to listen to all the music I've downloaded in the past month is an excuse.  Along with the new album from Camera Obscura I've been listening to another band called The Legends. Yes, it's another Swedish Indie band and you might have heard of the lead singer Johan Angergård. His other two bands are Club 8 and Acid House Kings. I don't know how he finds time for three bands and is also the founder of Labrador Records (I'm feeling really useless right now).
Like Club 8 and Acid House Kings, The Legends has the typical Swedish Indie, Twee sound, but depending on what record you buy their style of music changes. That's definitely not a bad thing and it keeps the albums unique and less monotonous. The album Up Against The Legends is one of their most popular albums and has more of a loud, echoey, reverb feel to it. There are songs  that are very catchy and just fun to play loud. Lets just say you might want to just get up and dance when you hear some of the songs.  Here's an example (Wait until about a minute into the song for the catchy female vocals to come in). I just got hooked when I heard this song.
[audio:Legends_05_Nothing to be done.mp3]
I mentioned above they have a unique sound depending on what album you get. With the album Facts and Figures, they went with more of a synth, electronic, new wave sound.  I can't tell you why they went this direction, which was a total 180 from Up Against The Legends, but they don't disappoint. It's like they were trying to challenge themselves to see if they can transcend various styles.  Mission accomplished.
[audio:Legends_08_Darling.mp3]
I got one more album called Public Radio. This is probably their less popular album, but it does have some gems. I believe this album was released between Up Against The Legends and their last album, Facts and Figures. You can tell by the subtle changes with the addition of some drum machines and a synthesized sound in a few of the songs that they were experimenting a bit. Example you say?
[audio:Legends_03_People Like Us.mp3]
Well, I hope you got to listen to something new and hopefully spark some interest in the group. Oh,  and they're releasing an album on May 6 titled Over and Over. Does that mean a US Tour? I really hope so…